Planned Giving
Maximize your philanthropic goals
Make a difference in people's lives and always be remembered for your contribution
Benefit yourself, your family and Furman with your planned gift
Help us fulfill our mission for many years and generations to come

Joseph '68 and Carolyn '67 Warden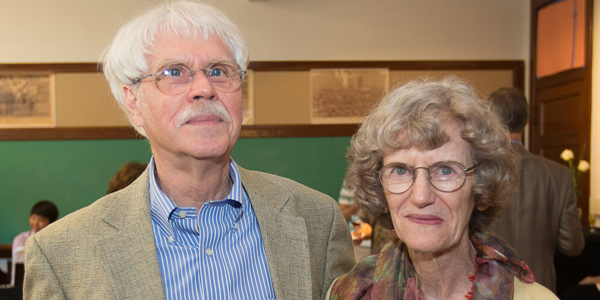 Joseph '68 and Carolyn '67 Warden are lifelong learners, forever delighting in the thrill of discovery and the equal enjoyment of sharing their knowledge and themselves with others. Though both are retired – Joseph as a professor of chemistry and Carolyn as a librarian – they are committed to supporting opportunities for students to engage in the joy of discovery just as they have for so long.
The couple met as Furman students, and now, in retirement, they are helping others who follow in their footsteps. The Joseph and Carolyn Warden Endowed Scholarship bears their name and their legacy. They recently further supported the scholarship by including Furman as a beneficiary of their Charitable Remainder Trust.
"We wanted to have the scholarship funded as fully as possible," Joseph Warden said.
To date, there have been two recipients, which delights the Wardens. With a stipulation that the scholarship be need-based and for students in the physical or biological sciences, the couple is helping make a solid liberal arts education accessible to more students, which is especially meaningful to Joseph Warden.
"I would not have been able, most likely, to attend college if I had not received scholarships from Furman," he said. "My father was a Southern Baptist minister who did, early on, a fair amount of work in founding missions in the Southwest. As such, we moved around an awful lot. I attended 12 different schools – four different high schools. Most of those high schools did not provide a very good education. Furman was my lifeline. With the combination of scholarships, work-study and loans, I was able to accomplish a degree, as well as obtaining the greatest treasure of my life: my wife."
The pair has been married for 53 years, and together they are committed to helping shine the light of education for future students.
"At Furman, the chemistry department was relatively small, but the faculty was accomplished and emphasized research," Joseph Warden said. "Furman was one of the earliest schools to obtain National Science Foundation funding for a summer research program specifically for undergraduates. Carolyn and I were both involved in it. During my four years, I developed not only a passion for doing research, but in a sense, I obtained a step ahead of many of my colleagues in graduate school because I had spent so much time in the lab, not only during the school year, but in the summer. And I'm very pleased that Furman has really taken the example of the chemistry department to heart and expanded across the curriculum – now they call it The Furman Advantage. It is summer research and intentional education across the curriculum that makes the Furman education so powerful."
Following their graduation from Furman, the couple ventured to Minnesota, where Joseph Warden obtained a Ph.D. in chemistry and Carolyn Warden found her niche in the library.
"I did summer research and quickly discovered that laboratory work was not my best skill," Carolyn Warden said. "When Joseph went to graduate school at the University of Minnesota, I obtained a job in the Chemistry Library, a separate, large research collection."
There, she found that she loved library research and working with sci-tech collections. She spent her career in technical information. As a result, the couple has also supported a summer fellowship at Furman for special collections research, including both student and faculty opportunities.
"People talk about paying back," Joseph Warden said. "I like to think of it as paying forward to future generations to have the opportunity to make the most of their ability – to make the most of their life."