Planned Giving
Maximize your philanthropic goals
Make a difference in people's lives and always be remembered for your contribution
Benefit yourself, your family and Furman with your planned gift
Help us fulfill our mission for many years and generations to come

Lyndey '09 and Peyton Bryant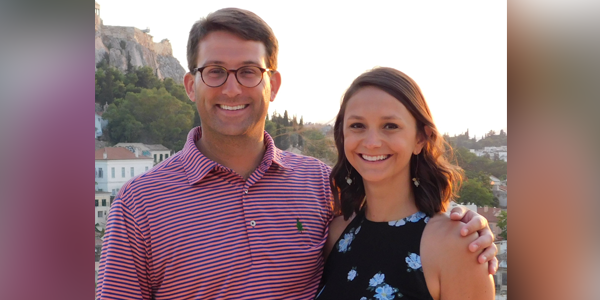 Lyndey '09 and Peyton Bryant recently joined the Legacy Society by designating Furman University as a charitable beneficiary of their estate. Through both their annual and planned gifts, the Bryants hope their support of the university will "help Furman's future remain secure," especially in light of the recent financial downturn caused by the COVID-19 pandemic. Lyndey is also a member of Furman's Young Alumni Council.
The planned gift from Lyndey and Peyton to the university is currently undesignated. Through their annual gifts, Lyndey and Peyton help fund student scholarships (Furman United Fund) and support the recently-created For Furman Fund, an emergency fund created to help members of the Furman community adapt to the new environment resulting from the pandemic. Lyndey and her brother, Hart Zwingelberg '15, were recipients of scholarships from Furman which made their degree possible, and Lyndey strongly believes that all students with the motivation and desire to attend Furman should be able to do so, regardless of financial ability or circumstances. She hopes that her and Peyton's annual and planned gifts to the university will provide opportunities for students who may not otherwise be able to afford a Furman education.
Like many donors, Lyndey says her family's decision to give back to Furman is credited to all that the university has poured into her: "It gives me great joy to remember everything Furman has done for me academically, professionally, and as a citizen of the world. Furman made me a better person and I am so grateful for the university's support while I was a student and for its continued support even now."
Donors like Lyndey and Peyton, who recognize the value of Furman's mission, are a vital part of the university's future. It is this kind of support that will ensure that Furman will continue to change the lives of her students for generations to come.